Gratulari is an amazing company with very inspiring jewelry. However, they don't only sell jewelry they also have an Inspirational Book with a little bit of humor to it, and Compliments Note Cards. Now if you have read my blog and reviews you know that I love to stay positive and teach my kids to be the same way. For my review I was sent a charming necklace that said "You are beautiful". To be honest when I opened that package and read what it said it put a smile on my face. The Compliment Charm Necklace came in a very cute little bag which would make it perfect for a gifting. I love the shades of yellow on this Compliment Charm Necklace. I think it's pretty cool that it can be worn two ways, with the side that says "You are beautiful" or just the yellow background with no words on it. I personally think this is a get self esteem booster for any little girl (to be reminded that she is beautiful). Another thing that I thought was neat is that Gratulari gives you the choice to choose the length of your Compliment Charm Necklace. I really like the length of the one that was sent to me. The size of the Charm is perfect not too big and not too small. I can say the Compliment Charm Necklace is AWESOME quality! Monica over at Gratulari is doing an amazing job at getting the word out to people on staying positive and being a better person. I am very satisfied with this company and product and would recommend them to everyone. Also the Compliment Charm Necklace would make the perfect stocking stuffer and/or holiday gift.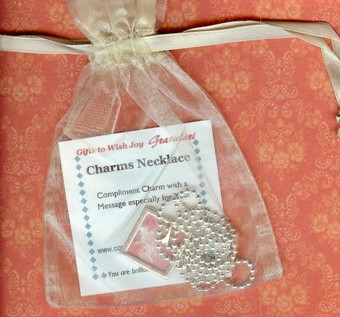 Monica Strobel is a passionate mom-preneur, seasoned writer and charismatic speaker, dedicated to empowering busy women to get more joy into and out of their lives and relationships.
She draws on a wealth of professional expertise, practical optimism and passion for making a difference in the world, in her new book, The Compliment Quotient, and all of her creative endeavors. She has long been recognized for her inspiring, can-do attitude and uplift-others approach, throughout a 25-year communications career in small business, governmental service and nonprofits in environmental, older adults and children's issues.
Monica leveraged saying nice things ("or don't say anything at all") into personal and career success, going from shy and reserved to interested and engaging. She learned to keep her positive attitude while maneuvering through life's triumphant and chaotic times alike–growing up in a family of eight, enduring "dumb Pollack" and dumb blonde jokes, raising children long-distance from family, going through divorce, and as a busy working mother of three. People find themselves telling her all kinds of things as she makes others feel at home and appreciated!
She is also the founder of
Generations In Touch
and
Sammy the Mail Snail Club
, designed to enhance connections between kids and grandparents,
www.generationsintouch.com
.
Buy it:
Head on over Gratulari
♪♫•*¨*•
❤
¸¸. •*¨*•♫♪♫♪
•
*¨*•.¸¸
GIVEAWAY
¸¸. •*¨*•♫♪♫♪
•
*¨*•.¸¸
❤
¸¸.•*¨*•♫♪
Win it:
Do NOT leave comments on my blog for the giveaway. Please leave them on Rafflecopter.
Thanks!
Disclaimer: This post consists of my opinions ONLY. No compensation was given for this review/giveaway. I did receive a free product from the sponsor to use and test for the purposes of this review. Your experiences may be different.